CircleSquares
So I'm making have made another quilt!
After lurking around Cluck Cluck Sew for a few months, ogling pretty quilts, I landed on the Raw Edge Circle Quilt Tutorial and thought Im going to make that for the Munchkin.
Two things attracted me to this quilt; first the colours, which those who know me will recognize as some of my favourites, and second that it looked non-fiddly enough that I might actually get it done before he leaves home.
I spent some time perusing my favourite online fabric stores, bought much more than I'd need for this quilt (gotta build the stash somehow…) and got started.
I won't bore you with every single step, just know that it involved doing this about 35 times.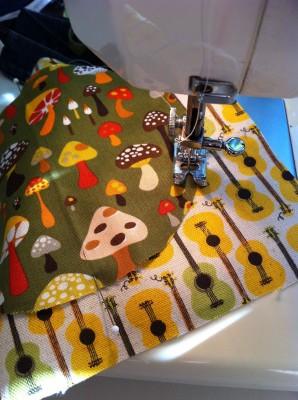 (I say "about" 35 times because I did a few extra, just in case.)
After quartering all those squares I ended up with this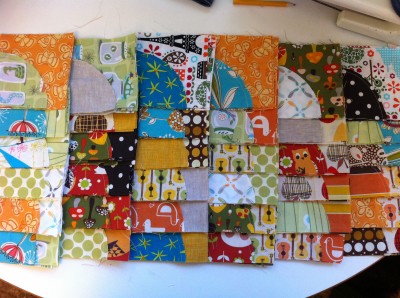 which I then had to arrange into a quilt-like composition, like so;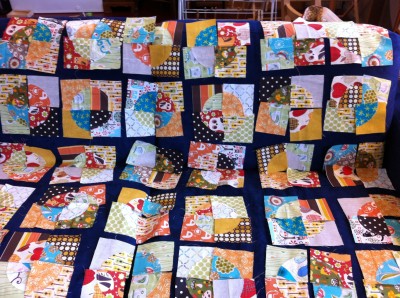 all the while attempting a reasonable distribution of different colours and tones and pattern types.
The day I did the layout, I didn't quite finish before the wee beastie awoke from his nap, upon which I blame the fact that there are a few places with matching fabrics touching each other. Oops. I didn't even notice until I had the front all sewn together (another logistical joy, keeping all those pieces in order), and I sure as hell wasn't going to redo it then. He'll just have to live with it. Hopefully it won't shatter him to discover at an early age that mommy isn't perfect.
I wanted this to be a cosy warm quilt, not just a pretty throw, so I went with Thinsulate for the batting, and tufting instead of real quilting to keep it nice and lofty. (I used leftover variegated green sock yarn that a certain someone should recognize.) I never think far enough ahead to plan the binding, but luckily I had some green fabric that I think works well, helping balance out the warmth of all the oranges and browns.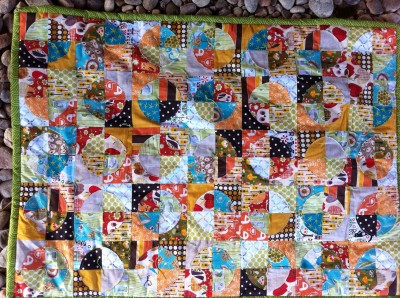 For the backing (also not planned ahead of time) I picked out some fun flannels at the local fabric & craft store, and ended up with this: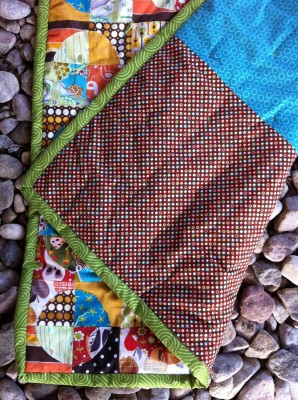 I love it, but the little boy hasn't exactly warmed up to it yet. This may have to do with the fact that he is quite opposed to the use of blankets in general, and for himself in particular. But I don't mind. I figure we'll just keep it around so it insinuates into his subconscious, and by the time he leaves home he won't be able to imagine not having it.
See, I do plan ahead after all.