Canning the Sun
Yesterday, I preserved myself a bit more summer.
Well, late summer. Harvest time, to be exact.
It was a busy morning, but it ended well, with five pints of applesauce (apples from my mom's Lodi tree), five pints of pickled green beans (from my garden, improvised recipe, have no idea if they'll taste any good), one pint of garlic dill pickle spears (garden cukes, unfortunately failed to seal so they'll be early eaters from the fridge) and a half-pint of pickled jalapeños.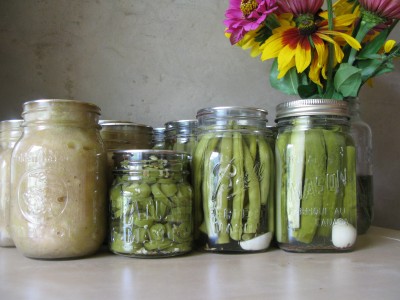 Whew. It was a bit of a learning experience, but I think I did pretty well for my first water-bath canning run. Now I have a bunch of jars of stewed and pickled sunshine, waiting for the shorter days when I can pull them out and think of how clever I was.
Also loving the rampant rudbeckia and zealous zinnias, seen in the corner.