It must be August
Because the beans, man, they are producing like it's the end of days. And I, well I just don't quite know how I'm going to keep up…
Just now, while the munchkin is napping, I thought "I should probably go pick a few beans" because I haven't picked the bush beans since the day before yesterday, and at that time I started to notice a few wee ones on the Purple Rattlesnake pole beans. It took about five minutes to fill a 4L basket. I glanced at the lone broccoli plant and saw the green bunches leaning towards blooms so snipped off the little florets for tonight's dinner. And of course a few Swiss Chard leaves from the thriving 8′ row for my lunch. The cukes I've been keeping up with and seem to be between blasts anyways, so I just got the one little mutant that was loitering on the bush, but I did spot 4 or 5 more that are at least double the size they were yesterday and will surely need to be culled tomorrow. The four golden cherry tomatoes didn't make it back to the house for the photo op. Not sure why. I know I picked them, nestled them in my palm… oh yeah, because they are like CANDY. Mmmm, sweet sweet vegetable (I know, fruit, but it's not as impressive sounding) candy.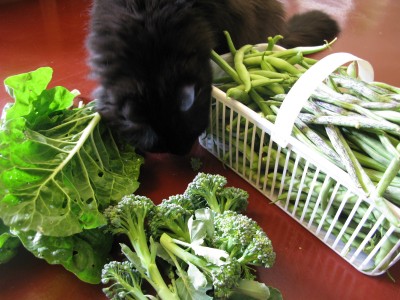 Now the fun part comes; processing the beans. Fortunately freezing beans is pretty quick and easy, the most time-consuming part is trimming them. It's just that between having to test a website migration, do laundry, research chicken-keeping and, oh yeah, care for a toddler, my free moments are few and fleeting.
But when I think of January, with snow feet deep all around and the days supposedly getting longer but it's hard to tell, when I'll be going bonkers because it takes 10 minutes to put on enough clothes to take out the compost, I know I'll be so glad I scurried now so that I can open the freezer, dump a bag into a steamer and taste the sunshine of August again.