New Year Bunnies
Once again, Chinese New Year is here, which means another set of CNY prints. This being the Year of the Rabbit, the cards feature a wee family of the critters.
I started several weeks ago with this very loose little sketch,
mulled it over in my head for a while and came up with this as the final product: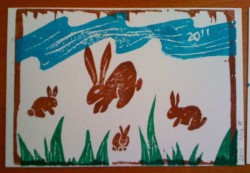 Cute, sure, but I have to say that It would have been more complex if I'd been able to take more time for it. As it was I chose the ease and speed of lino (well, Speedcut block to be precise) printing again, and a simple design, just not feeling up to anything more labour-intensive.
When I started this series my goal was to use it to spur myself to learn more print techniques and develop as an artist. I definitely did that in the Year of the Ox, and though I wasn't terribly challenged by the Year of the Tiger print, it did at least push what I'd done in that particular medium.
This year, however, I felt like it would have to be enough just to get it done. Heck, I even managed it more or less on time. But I sincerely hope that by next CNY I'll be feeling a little more in control of my time, a little less overwhelmed by just getting through each day, let alone trying to be a better artist.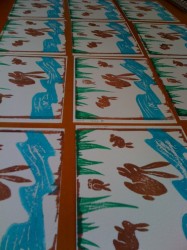 So here's hoping for a peaceful bunny of a year, with time to recover from the Tiger.