Surprise!
This is it, the Baby Surprise Jacket.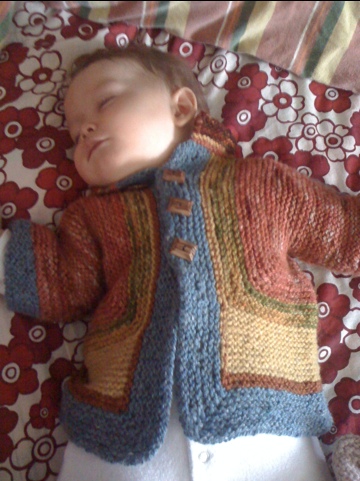 The real surprise, to me at least, was that I actually managed to complete this in a reasonable amount of time, and it still fits him a month and a half later!
The pattern is great fun: just enough variety to keep one awake while knitting, but with simple enough technique that even a relative beginner could do it with a little bravery and concentration. And of course the surprise bit, knitting up this wobbly warped thing that turns into a jacket with two easy seams. The only modification I made was the addition of a very simple straight collar, just enough to keep drafts off the munchkin's chubby little neck.
For me, the number of seams in a garment is inversely proportional to my delight in knitting it, so the only thing that could have made me happier with it would have been making it with one yarn so as to avoid all the ends to weave in. Of course the upside of that is the satisfaction of using up all those great little skeinlets of yummy yarns.
The jacket itself is genius: the full arms are easy to pull on over long sleeve shirts and short enough that they stay out of the way of busy, grabby little hands. I only got four buttons sewn on on of the six I made holes for, but it seems like it would be fine with any button arrangement one chose to use.
I love this jacket and am sure I'll have to make another in the toddler size for next winter.
Coming soon: more finished objects, and this year's Chinese New Year prints!