Getting started, and the tricky bit.
It seems insane, but we're doing the 401 Richmond holiday craft show again.
Why insane?
It's a little over a month away.
I haven't started making things for it yet.
OK, that's not entirely true. Last week I bought some fabric, and today I made a prototype (as fugly as all my prototypes, more an exercise in finding the many faults in a preliminary pattern than creating anything useable).
I pulled out the large and small quantities of materials I hope to use to make the stock, and stacked it up in a hopeful kind of way on my desk, like so: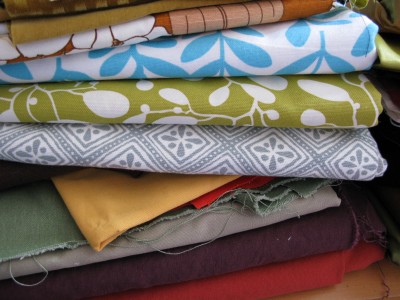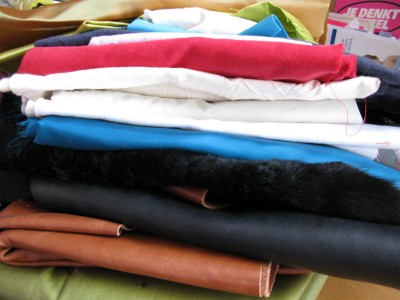 This morning I scribbled out a couple of patterns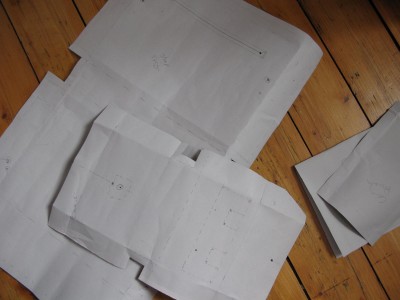 which will hopefully be the basis for some fairly easy to make but still funky, useful and attractive purses & pouches.
So I have begun, it just doesn't quite feel like it yet.
Because before I can really get going, I need to figure out how many of which items I'm going to make out of which materials. This is the tricky bit, because if I do it right we could theoretically have a good show and sell lots, and if I do it wrong it could be an utter failure and I'll have lots of Christmas presents (of things people didn't want to buy – how great is that) but no income (or self-esteem, but who's counting…). So, you know, no pressure or anything.
And it really is the trickiest part for me; I'm OK at making plans out of chaos, but I'm much better at the following part. I feel all wobbly and unsure and doubtful when making the plan, and keep second-guessing myself. Once it's made I can zip along full steam like nobody's business, but I'm just not so good with the whole "big picture" thing. I'm more of a details person.
So here's hoping I'm somehow aware enough of the current trends, and other people's taste in general to put together a collection that will sell like hot-cakes and leave us with empty bins at the end of the show.
And enough money in my pocket to get people Christmas presents that aren't just craft show rejects.