Ode to Cosmos
I love cosmos.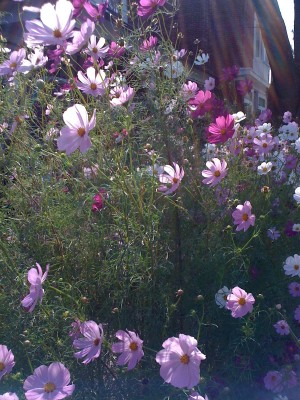 They make a special treat at the end of summer, their pink and white heads swaying on top of the feathery foliage, just when so many flower beds are starting to look rather wan and tired. On our street there are big patches of cosmos in front of three of the four houses neighbouring us to the east, so coming home means being greeted by these cheerful maidens waving and brushing me as I walk along the sidewalk. The sense of having arrived is heightened by the fact that we moved into this apartment at this time of year, and I always remember the cosmos, amongst which I hadn't previously lived, somehow making me feel at home.
Every time I pass them seems like a photo op. Whether it's the late afternoon sun making them glow from behind, or the wind turning all the flower heads to face the same way, or the lacy density of the plants filling my field of vision. Even in the rain they're lovely.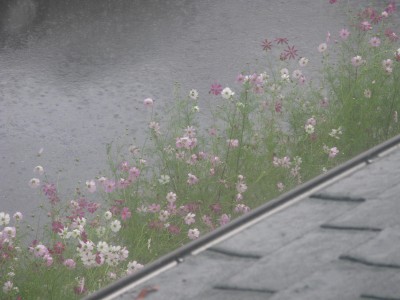 So hooray for these flowers that wave out the summer and welcome the fall.
Apparently babies like them too.