The (nearly) immeasurable joys of summer
Things I love about having my windows open all the time:
1- the neighbourhood robin whose streetlight-addled brain thinks that 4:30 am is a good time to tell everyone all about his plans for the day. I hope you can only imagine how soothing it is to be serenaded by this on those mornings that I am inexplicably awake at that hour and trying desperately to go back to sleep.
2 – the two small boys who live next door and seem to spend all day every day playing in their back yard, one (or both, I can't be sure) of whom sounds eerily like Ralph Wiggum from The Simpsons. Since they have a very tall fence surrounding their yard, and I'm not nearly sociable enough to have made any effort whatsoever to get to know our neighbours in the nearly three years we've lived here, I have only the vaguest notion of how these boys look. Therefore I have constant images like this flashing through my consciousness all day…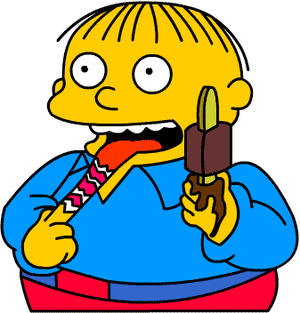 3 – the a**hole down the street with his (I'm assuming it's a male, I could be wrong but I doubt it) ludicrously souped up some-sort-of-small-Japanese-car, who loves to rev through the laneway behind our house (of which our bedroom windows get excellent acoustics) with his 'roided out stereo thumping at about 11:30 pm, also known as just about the precise time I've managed to fall asleep.
4 – the fact that the aforementioned neighbours had a new a/c unit installed on their roof two years ago, directly opposite our bedroom window. I mean, if you've gotta have central a/c, I'm all for rooftop units in general, but could they not have put it ANYWHERE else on the roof? Did they not see the window Right. There. ? Actually it wasn't that bad the first year, since it is very new, probably expensive and therefore remarkably quiet, as these things go. But last year it developed a rattle. Just a little one, a little cyclical rattle of some little loose piece that they'll never hear themselves. Of course since I don't know the neighbours at all (see above), I have forced myself to get used to it and it's really not that bad. Really. Except when I notice it.
But I still prefer all this to the canned feeling of central air and closed windows. Really. Though I'll likely say differently in a few weeks when the nighttime temperatures stay in the 20's and the sleep deprivation turns me into a sweaty, weepy pile of pathos.