Just keep your tail out from under my rocking chair.
In commemoration of the 200th anniversary of the fortunate birth of the privileged naturalist who ended up penning On the Origin of Species (side note: few things irritate me as much as people who refer to it as "The Origin of The Species", and know little enough about the whole subject that they think it's really just all about people coming from apes and therefore somehow insulting and OMG I could go on and on…); Happy Darwin Day!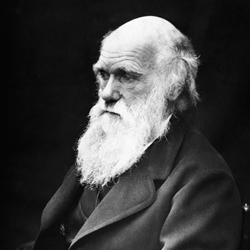 So here's to the dude (and to Wallace -thx Maggie- who figured out a lot of the same stuff independently but lost top billing to Darwin, and to Mendel who did very important complementary work in genetics but seemed largely uninterested in this evolution stuff) and here's to us for all being animals.
But wait, there's more!